Get InspiRED With Top 10 Products
Get InspiRED to Celebrate February with
Our Top 10 Picks We Know You Will LOVE!
We've searched through our website to find the perfect decor, furniture, books, and more to help you celebrate February.
Here our our Top 10 Picks waiting to inspire you, all featuring the theme of RED of course!
#1 Red Mini Polka Dots Border Trim
Add some festive flair to your bulletin boards or bookshelves with this fun red and white border trim. 2 3/16" x 35' per pack.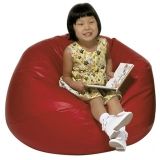 Plush polyurethane foam filling is flame retardant and lasts indefinitely. Features durable, easy-to-clean vinyl outer casing with double stitched seams for added strength. 38" diameter. Wt. 14 lbs. Additional shipping charges apply.
#3 Red Healthy Kids(TM) Furniture Collection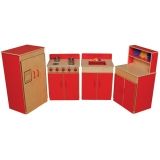 Classrooms now have an option to add color furniture without compromising children's health or safety. Healthy Kids™ Colors Furniture is made with exactly the same materials and construction techniques as our Healthy Kids™ Furniture. Ranges feature rounded plastic handles, black burners and movable control knobs. Sinks include a tough, plastic swivel-faucet with movable knobs and durable plastic sink pan. All appliances utilize real heavy-duty, self-closing, top-of-the-line Pinch-Me-Not™ cabinet hinges. GREENGUARD Children & Schools certified. Made with 100% Healthy Kids™ plywood and our exclusive Tuff-Gloss™ UV finish. Lifetime Warranty. Weight 157 lbs. Additional shipping charges apply.
#4 Red Book
Beautiful color is all around us, and it's everywhere in these award-winning books. Kids can almost taste the sweet oranges bursting from the book's pages and feel the lush, green grass tickling their toes.
#5 Melissa & Doug(TM) Red Kitchen Accessory Set
Get ready to cook up something yummy! This 8-piece wooden cook's set includes a frying pan, stockpot and saucepan with lids, spoon, slotted spatula and an oven mitt. Ages 3 and up
#6 Red Paw Magnetic Whiteboard Eraser
Use to erase any dry-erase marker from whiteboards. Sticks to steel backed whiteboards, filing cabinets, and other steel surfaces. Cleans up with soap and water. 3 1⁄2" x 3 1⁄2".
#7 Red Roof Wall Mounted Bookshelf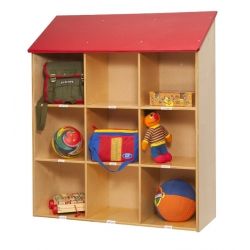 Wall mounted storage cabinet with an attractive roof. Great for books, lunch boxes, clothing and supplies. Made in the USA. Lifetime warranty. 36"W x 41"H x 12"D. Weight 55 lbs. Additional shipping charges apply.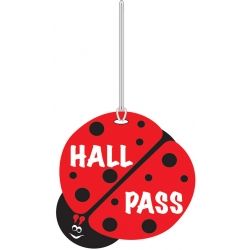 Unique soft rubber hall passes each feature a wrist strap. Approximately 3 3⁄4"; rectangular are 3" x 5".
#9 Funtastic Font 4" Red Polka Dot Combo Pack
Use these letters to create bulletin boards, classroom centers, signs, banners, and other displays. They punch out easily and are coated for durability. Combo Packs include 208 total pieces: 55 uppercase letters, 84 lowercase letters, 20 numbers 0 to 9, 35 punctuation marks and 14 Spanish accent marks.
#10 STAFF FAVORITE!
Snazzy Tape(TM) in Red and White Polka Dot
Snazzy Tape™ is our new multi-purpose "designer" tape with a clean removal adhesive. Use as a border for bulletin boards, posters, science boards, and more. Great for decorating the classroom when used to trim marker boards, door frames, and window frames. 1-1/2"W x 39'L
Find more great tips and resources by following us on Pinterest!

You can also find more tips, new product announcements, and coupons when you "LIKE" us on Facebook!